Starting in 2021, the University of Pittsburgh AWM Chapter hosts the Pitt AWM Student Seminar Series, held on the first Fridays of each month at 4:45pm. Every meeting features two 30 minute long talks by female PhD students, each presenting the speaker's research outcomes. Our seminar is hoped to give a platform to female students-researchers, to promote the spirit of collegiality and collaboration, and to recognize the hard work of students during the pandemic time and beyond.
Talks are video-recorded and made available on our Youtube Channel (subject to each speaker's permission).
If you wish to give a talk, please reach out to Farjana Siddiqua at: fas41@pitt.edu
Seminars are held virtually on Zoom. Meeting id: 96524480571. Password: awmpitt.
In order to keep the seminar space safe and professional, we respectfully request that all the participants identify themselves with their real names when connected via Zoom.
---
The Association for Women in Mathematics has selected the University of Pittsburgh's Student Chapter as the winner of the 2023 AWM Student Chapter Award for Scientific Excellence. The citation recognizes our seminar: "The AWM Student Chapter at University of Pittsburgh is recognized for a number of endeavors, especially "Pitt AWM Student Seminar Series." This monthly series features two 30-minute talks from female graduate students from around the world, is attended by faculty and students, and is made publicly available on YouTube. The seminar series has featured 38 speakers since 2021. This seminar series represents a significant organizational undertaking and makes an important contribution to the research community."
Seminars in Fall 2023:
September 8, 2023

4:45pm

Jenita Jahangir (PhD Student) 

University of Louisiana at Lafayette

A discrete time stage structured model for host parasitoid interaction with pest control

September 8, 2023

5:15pm

Rui Fang (PhD Student) 

University of Pittsburgh

Ensemble Monte Carlo penalty finite element method for the Navier-Stokes equations with random forcing and initial conditions

October 13, 2023

4:45pm

Alice Merz (PhD Student) 

Università di Pisa, Italy

On Markov theorem for knots with symmetries 

October 13, 2023

5:15pm

Rachael Alfant (PhD Student) 

Rice University

A stochastic nonlinear programming approach to pricing in the cloud

November 10, 2023

4:45pm

Arnaja Mitra (PhD Student) 

University of Texas at Dallas 

Equivariant global Hopf bifurcation in abstract nonlinear parabolic problems

November 10, 2023

5:15pm

Isabel Barrio Sanchez (PhD Student) 

University of Pittsburgh 

TBD

December 8, 2023

4:45pm

Truöl Paula (Postdoc) 

Max Planck Institute for Mathematics, Bonn, Germany

TBD

December 8, 2023

5:15pm

Agnese Mantione (PhD Student) 

University of Münster, Germany

TBD
---
Seminars in Spring 2023:
February 17, 2023

4:45pm

Shiyue Li (PhD Student) 

Brown University

Equivariant log-concavity of independent sequences of claw-free graphs

February 17, 2023

5:15pm


Sining Gong (PhD Student) 

Brown University

Convergence of Lagrange FEM for Maxwell Eigenvalue Problem in 3D

March 17, 2023

4:45pm

Kamrun Nahar Keya (PhD Student) 

Arizona State University

Directed diffusion in population dynamics with Allee effect

March 17, 2023

5:15pm

Alice Marveggio (PhD Student) 

Institute of Science and Technology, Austria

Approximation of multiphase mean curvature flow by means of the Allen-Cahn phase field model

April 21, 2023

4:45pm

Sarah Griffith-Siqueira (PhD Student) 

Brown University

The Torelli theorem for graphs

May 19, 2023

4:45pm

Elisa Vitale (PhD Student) 

International School for Advanced Studies (SISSA), Italy 

Motive of Quot schemes on curves

May 19, 2023

5:15pm

Valentina Bais (PhD Student) 

International School for Advanced Studies (SISSA), Italy 

On Stiefel's parallelizability theorem for closed 3 manifolds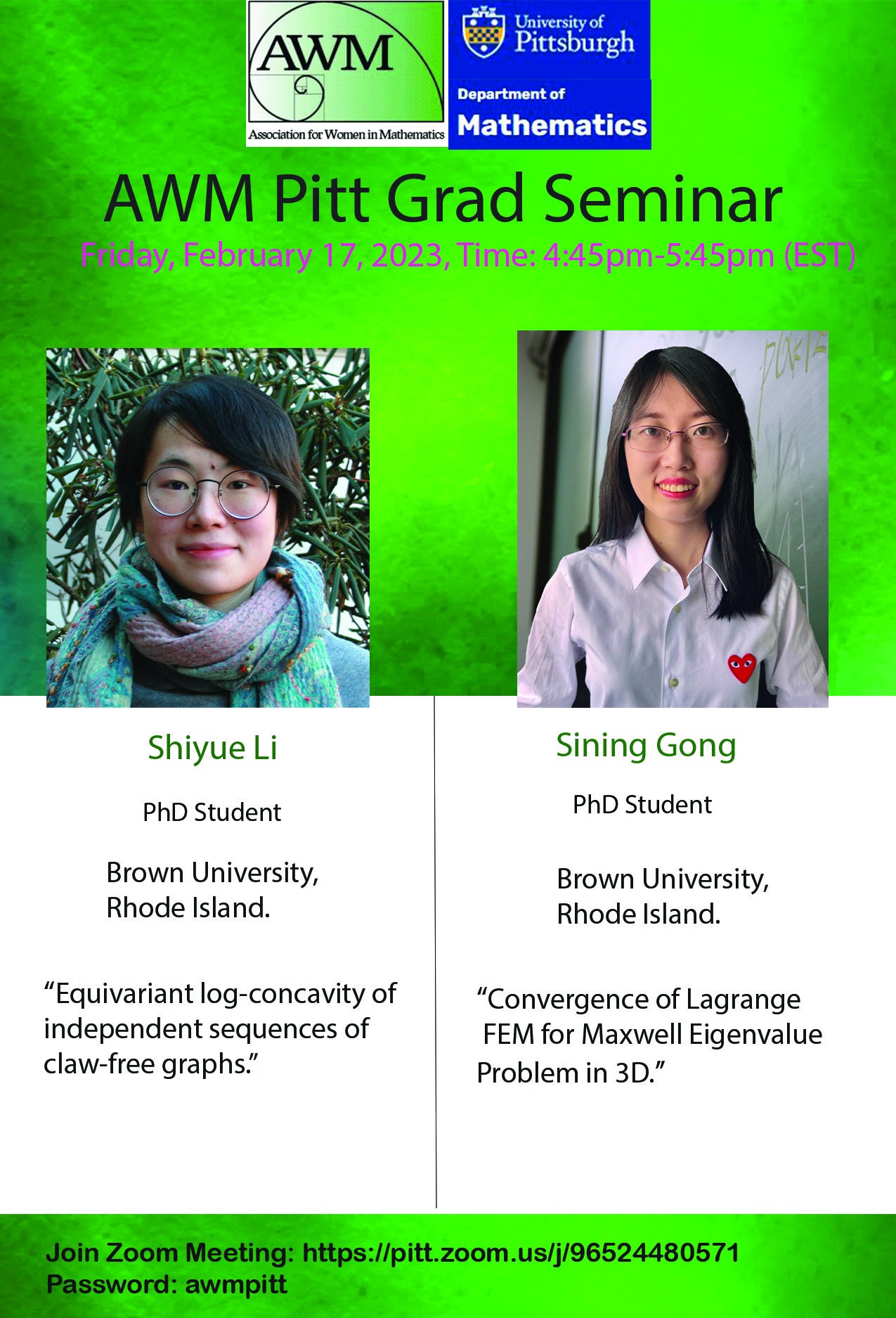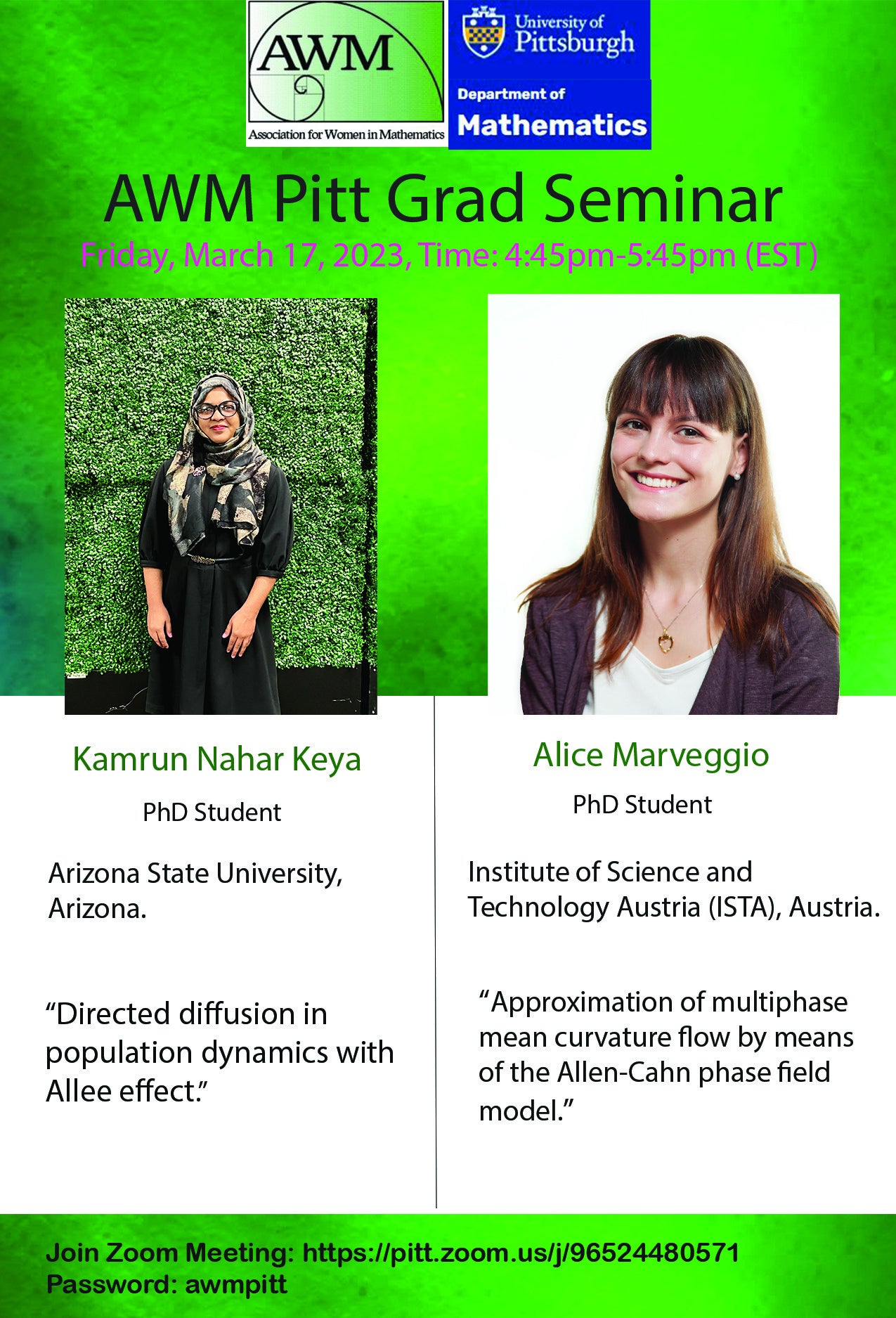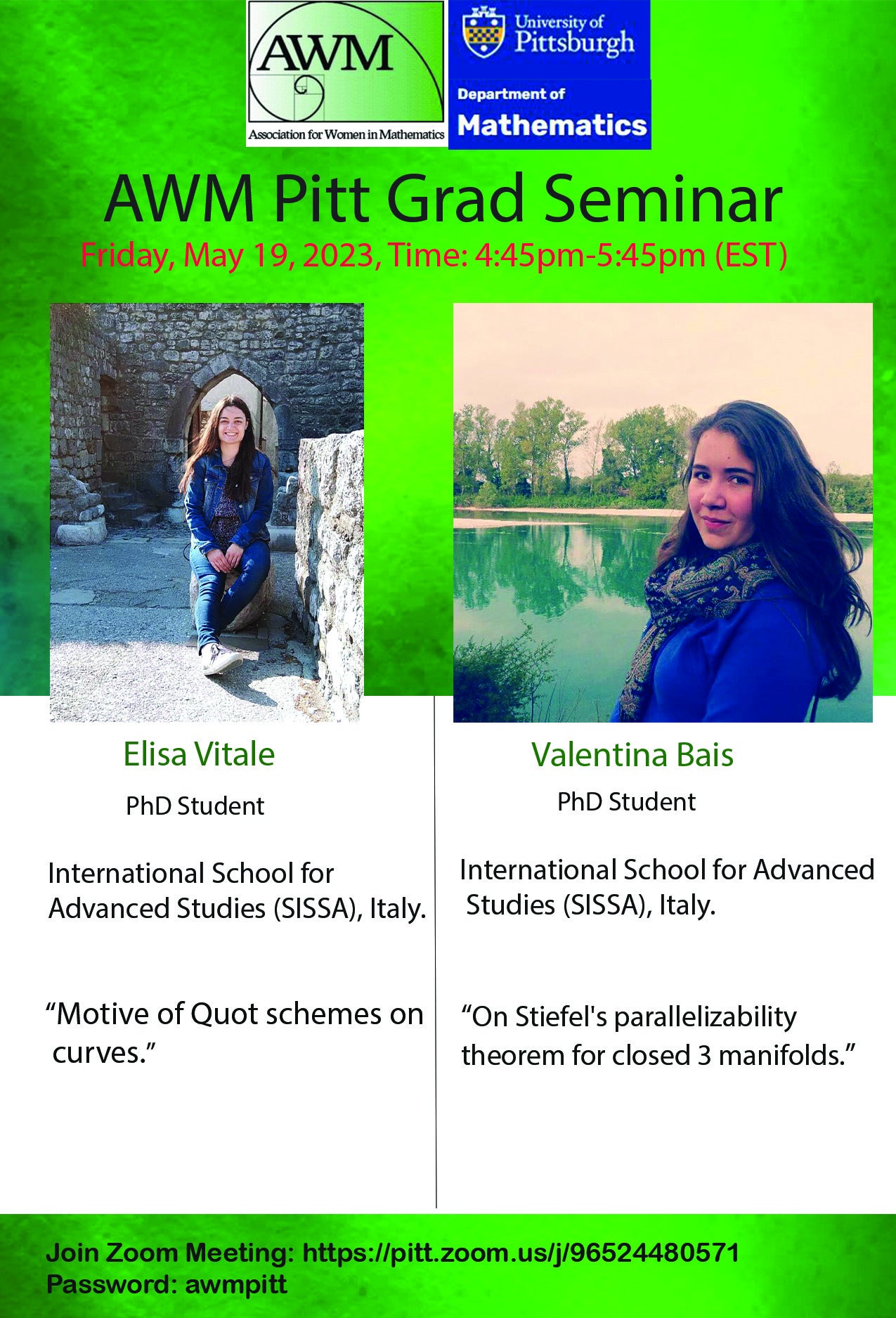 ---
Seminars in Fall 2022:
October 7, 2022

4:45pm

Charlotte Beckford (PhD Student) 

University of Tennessee, Knoxville

Hybrid model of winter tick epizootics in moose

October 7, 2022

5:15pm

Natalie Wellen (PhD Student) 

University of Washington

K-Spectral Sets

-- Talk Cancelled --

November 4, 2022

4:45pm

Jenny Power (PhD Student) 

University of Bath, UK

Making Cancer Treatments Safer with Math: Optimal Control for Brachytherapy Radiation Problems

November 4, 2022

5:15pm

Lin Chen (PhD Student) 

Carnegie Mellon University

An optimal mass transport method for random genetic drift problem

December 2, 2022

4:45pm

Leah (Kaisler) LeJeune (PhD Student) 

University of Louisiana at Lafayette

Effect of cross-immunity in a multi-scale cholera model

December 2, 2022

5:15pm

Melinda Kleczynski (PhD Student) 

University of Delaware

The Construction and Interpretation of Pollination Resource Complexes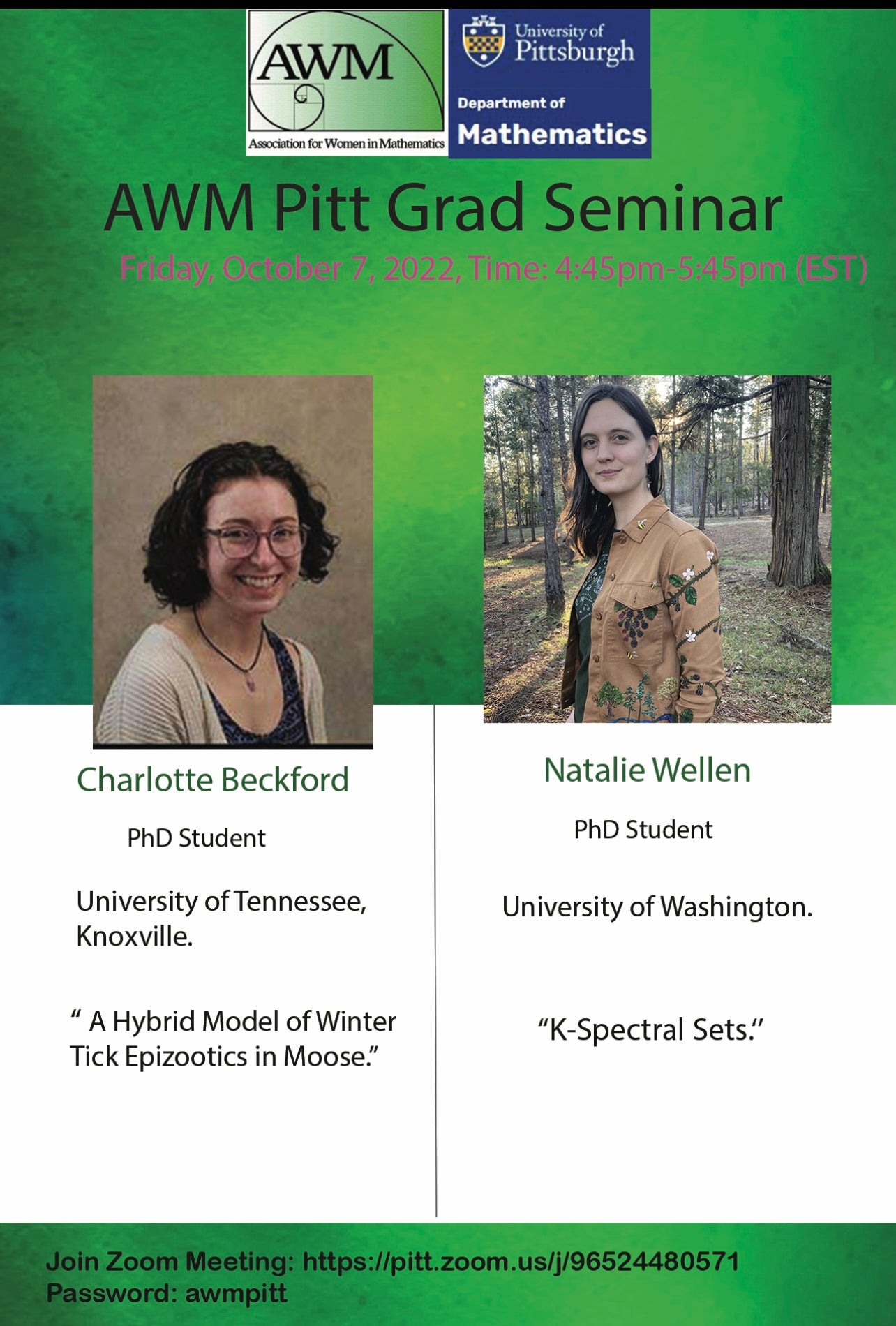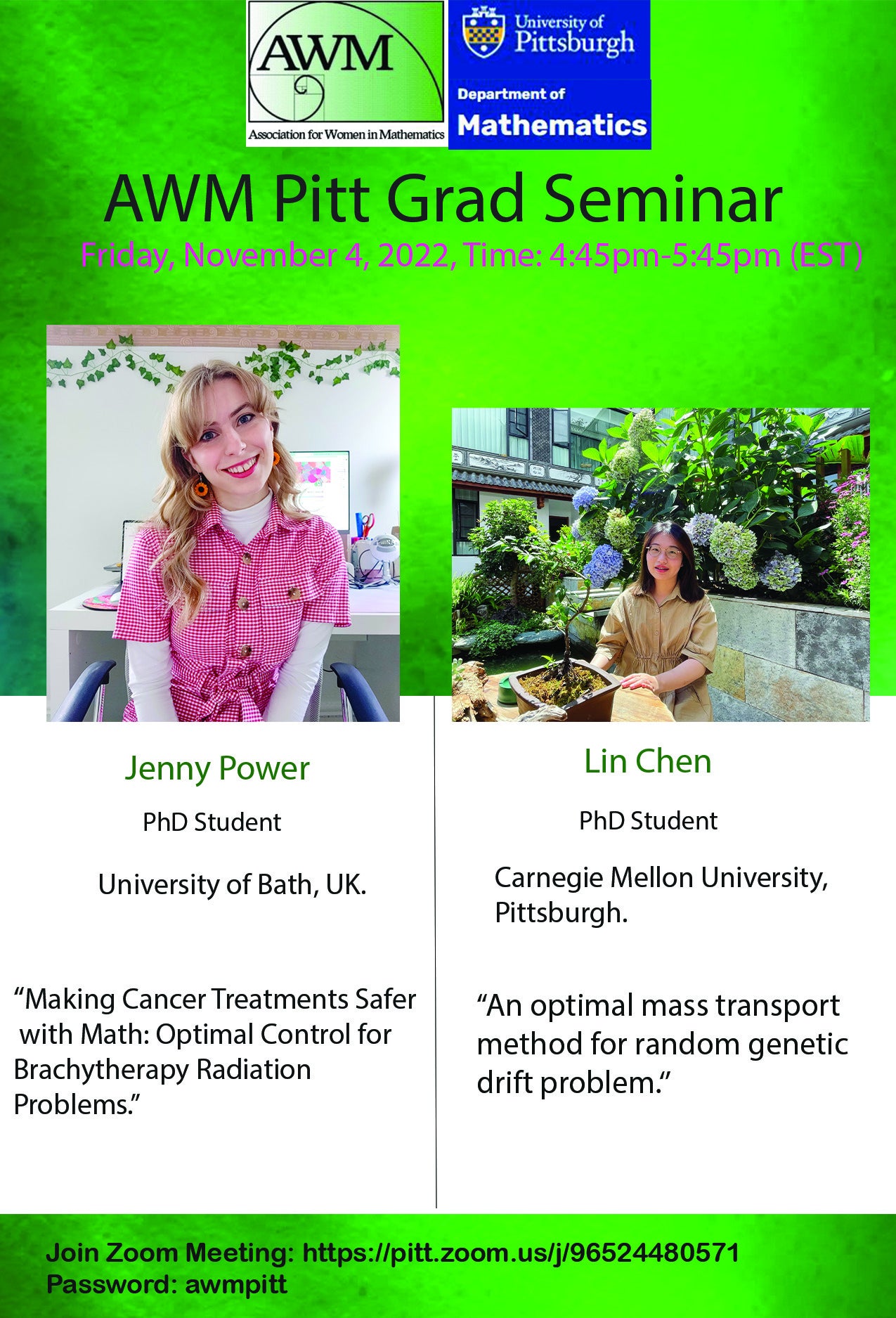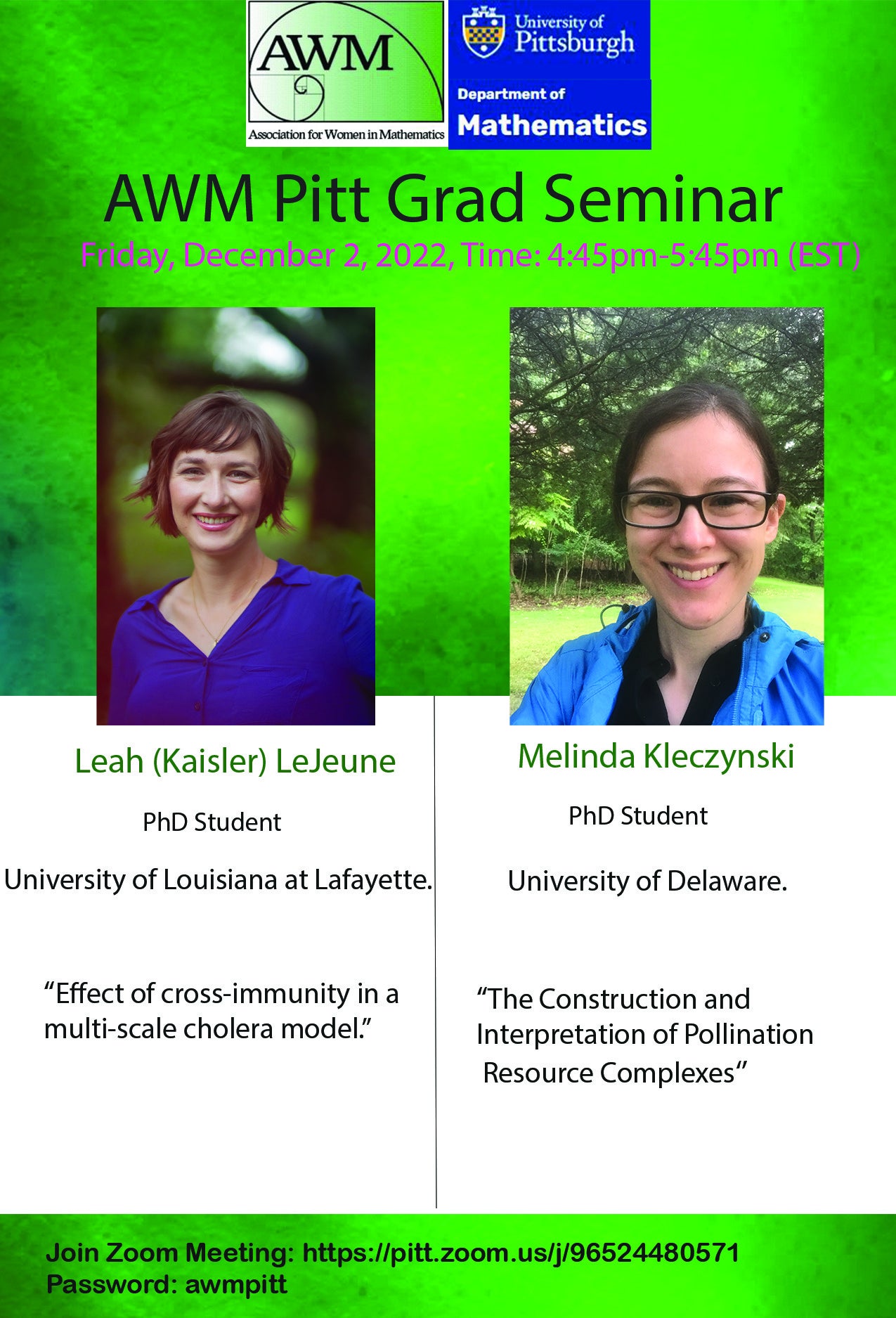 ---
Seminars in Spring 2022:
February 4, 2022

4:45pm

Rebecca Durst (PhD Student) 

Brown University

Loosely coupled time-splitting methods based on Robin-Robin interface conditions

February 4, 2022

5:15pm


Kiera Kean (PhD Student) 

University of Pittsburgh

On the Prandtl-Kolmogorov 1-Equation model

March 4, 2022

4:45pm

Vaishavi Sharma (PhD Student) 

Tulane University

Arithmetic properties of the divisor function

March 4, 2022

5:15pm

Rimjhim Tomar (PhD Student) 

Czech Academy of Sciences

The neural coding problem and the role of instantaneous firing rate

 

April 8, 2022

4:45pm

Himani Sharma (PhD Student) 

Australian National University

Boundedness of certain square functions

April 8, 2022

5:15pm

Emily Winn (PhD Student) 

Brown University 

Revisiting the effect size analogue for variable selection in nonlinear regression.

May 13, 2022

4:45pm

Elisa Bellah (PhD Student) 

University of Oregon 

Lifts of Markoff triples mod p

May 13, 2022

5:15pm

Sushmita John (PhD Student) 

University of Pittsburgh 

Slow negative feedback enhances robustness of square-wave bursting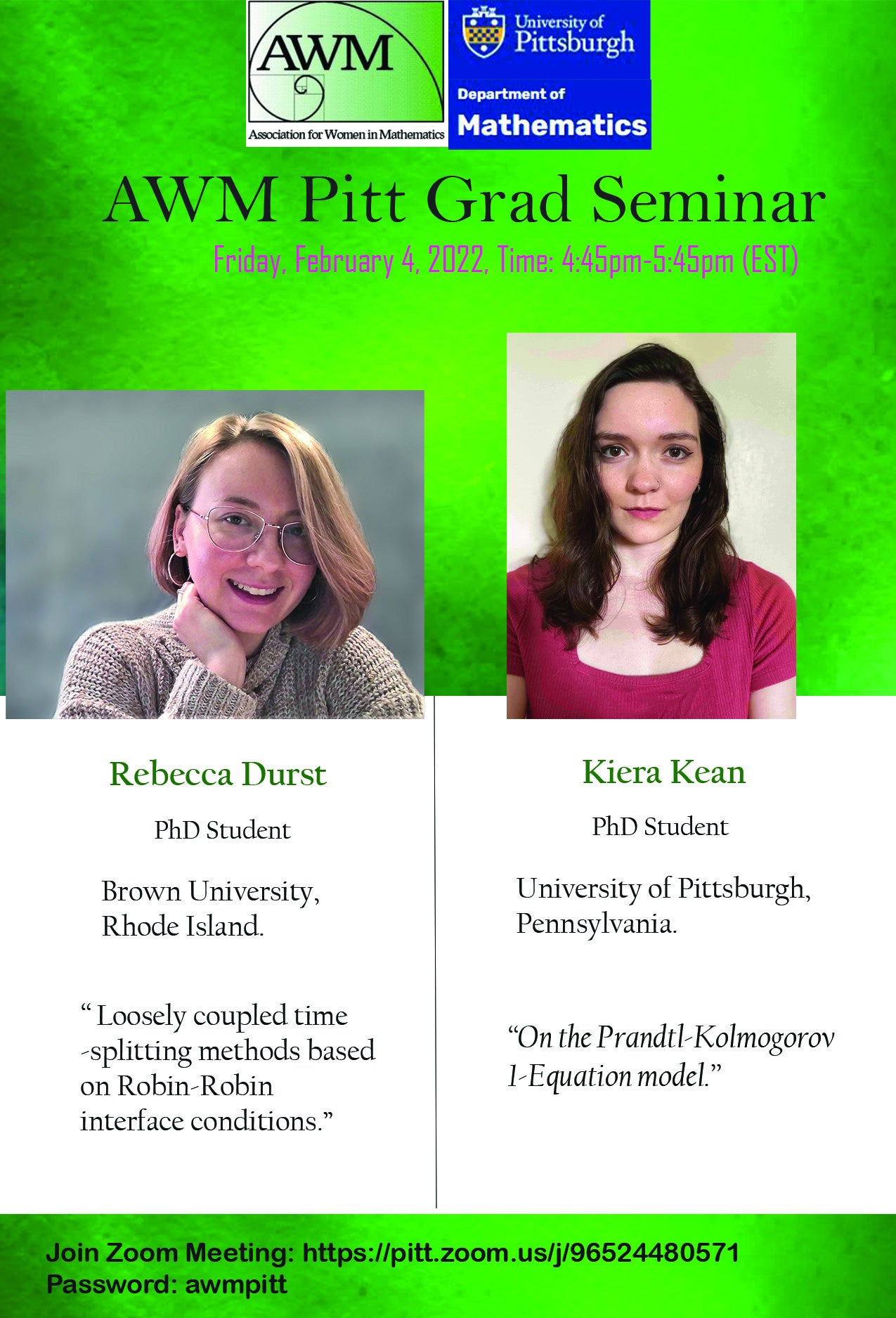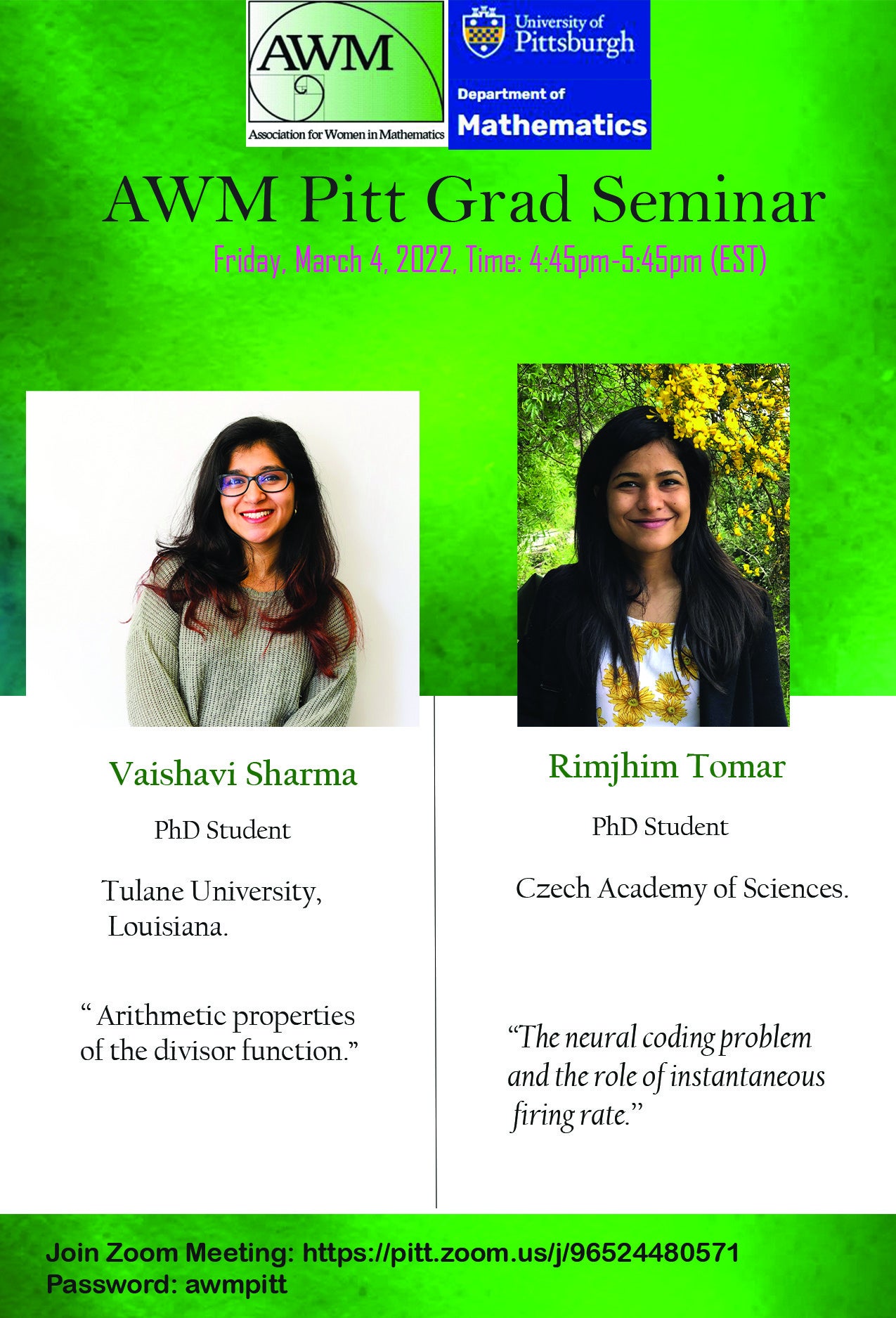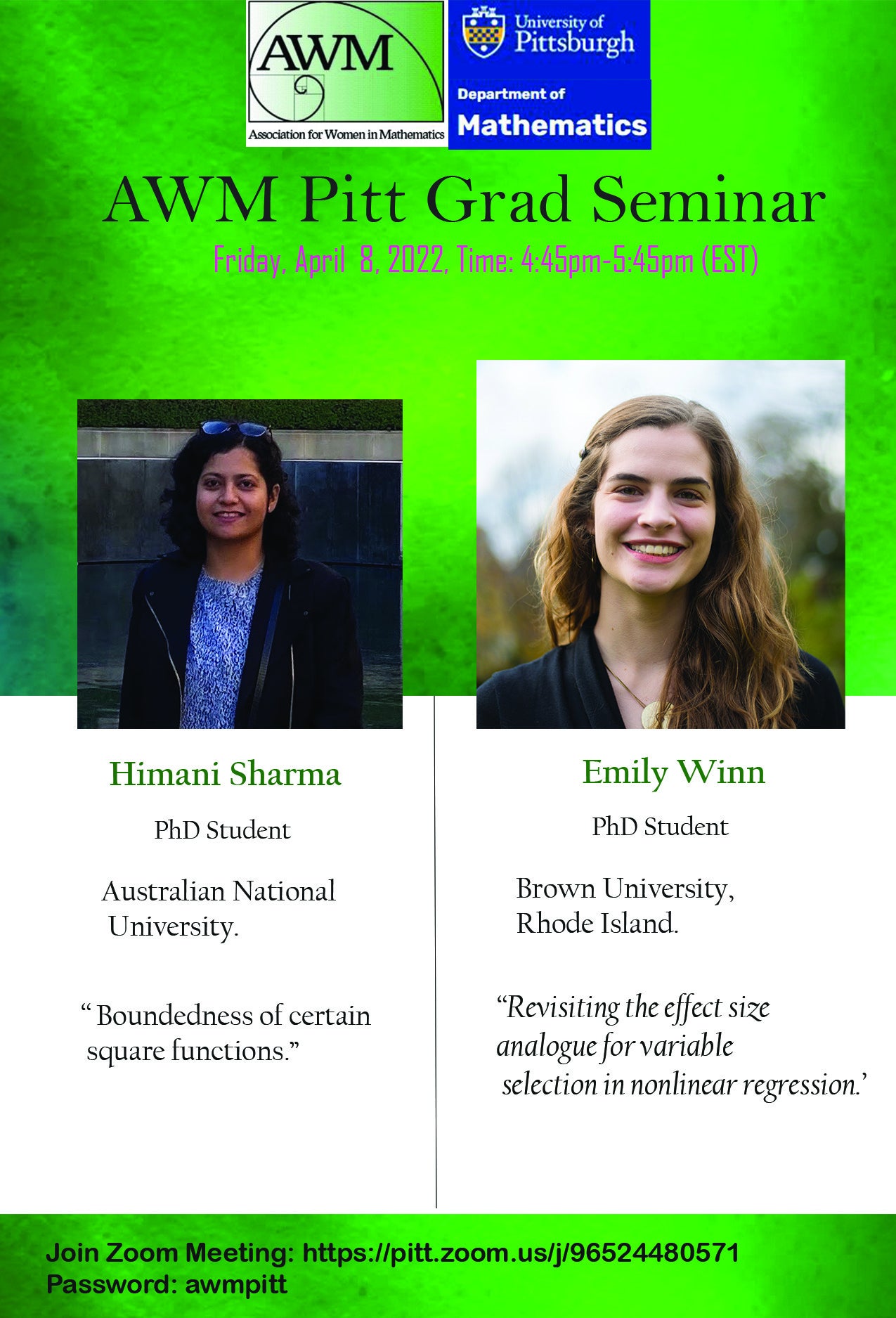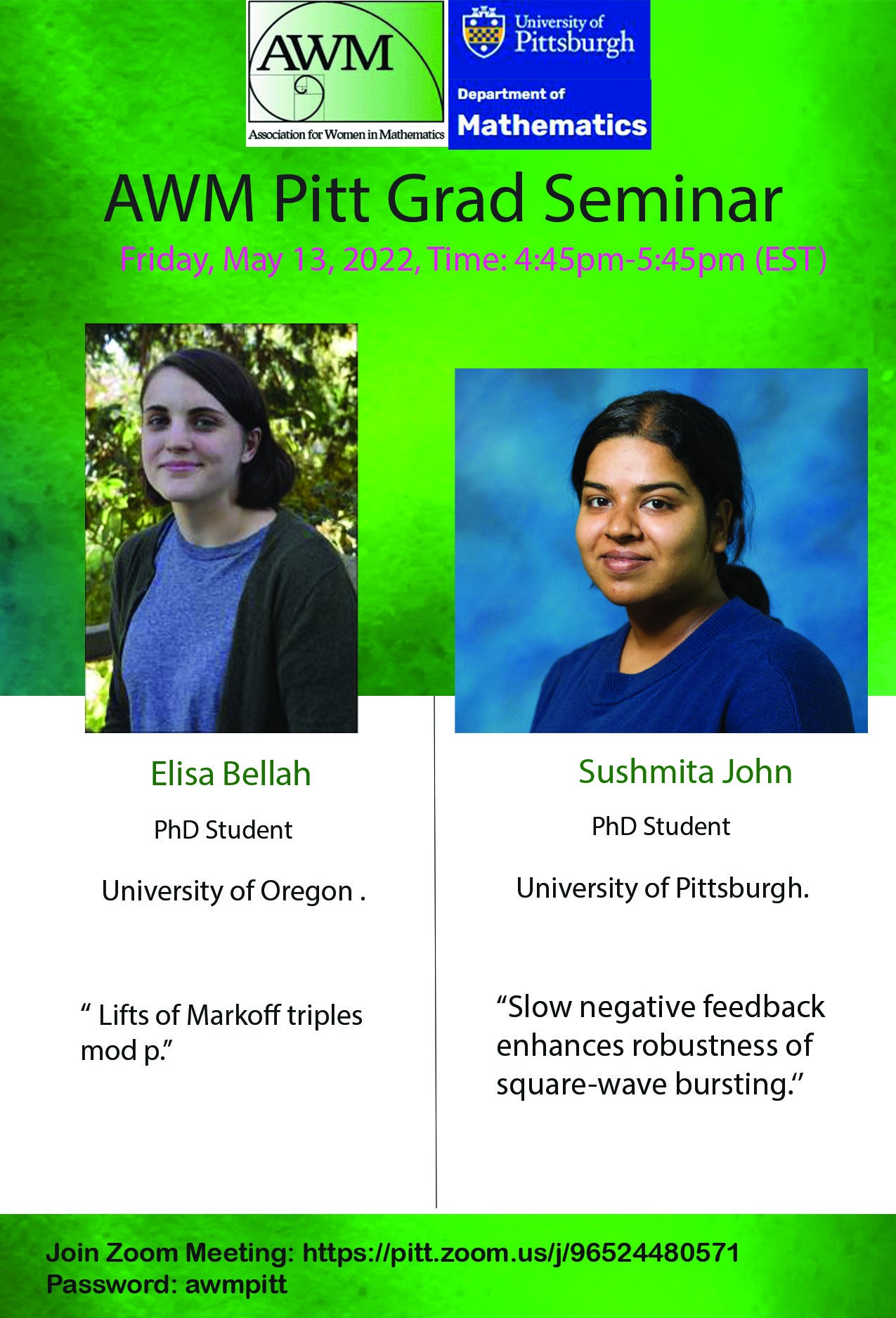 Seminars in Fall 2021:
October 1, 2021

4:45pm

Xing Wang (PhD Student) 

University of Pittsburgh

Analysis of the fully coupled Stokes-Biot-Transport problem and its applications

October 1, 2021

5:15pm

Yixuan Wang (PhD Student) 

University of Pittsburgh

Strong solution for compressible liquid crystal system with random force

November 5, 2021

4:45pm

Lauren Niu (PhD Student) 

Harvard University

The mechanics and geometry of sheets and shells

 

November 5, 2021

5:15pm

Sahiba Arora (PhD Student) 

Technical University of Dresden, Dresden, Germany

An operator theoretic approach to uniform (anti-)maximum principles

December 3, 2021

4:45pm

Maria Strazzullo (PhD Student) 

SISSA, Trieste, Italy

The role of optimal control in bifurcating phenomena: an application to Navier-Stokes equations

December 3, 2021

5:15pm

Xihui Xie (PhD Student) 

University of Pittsburgh

New ideas for penalty method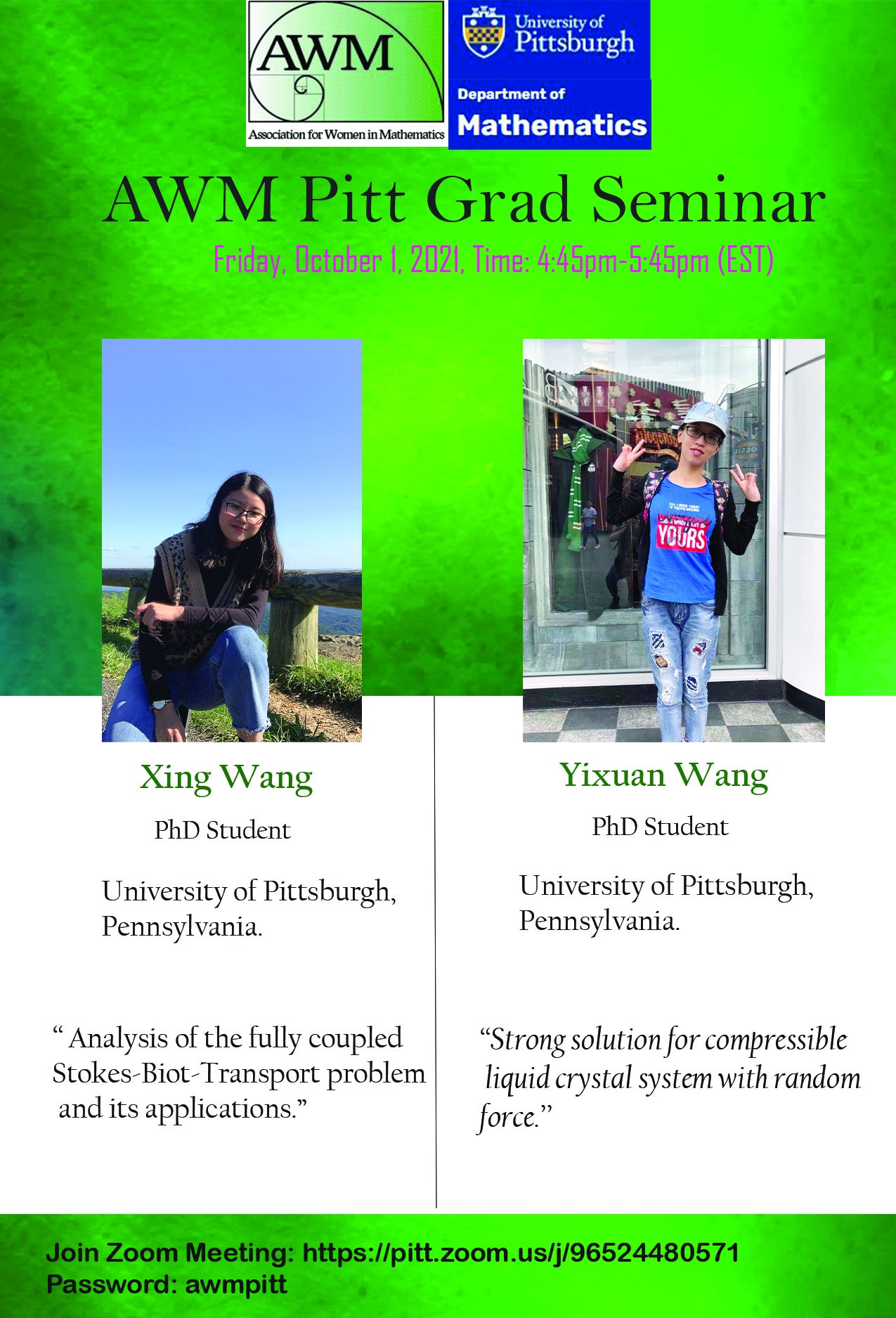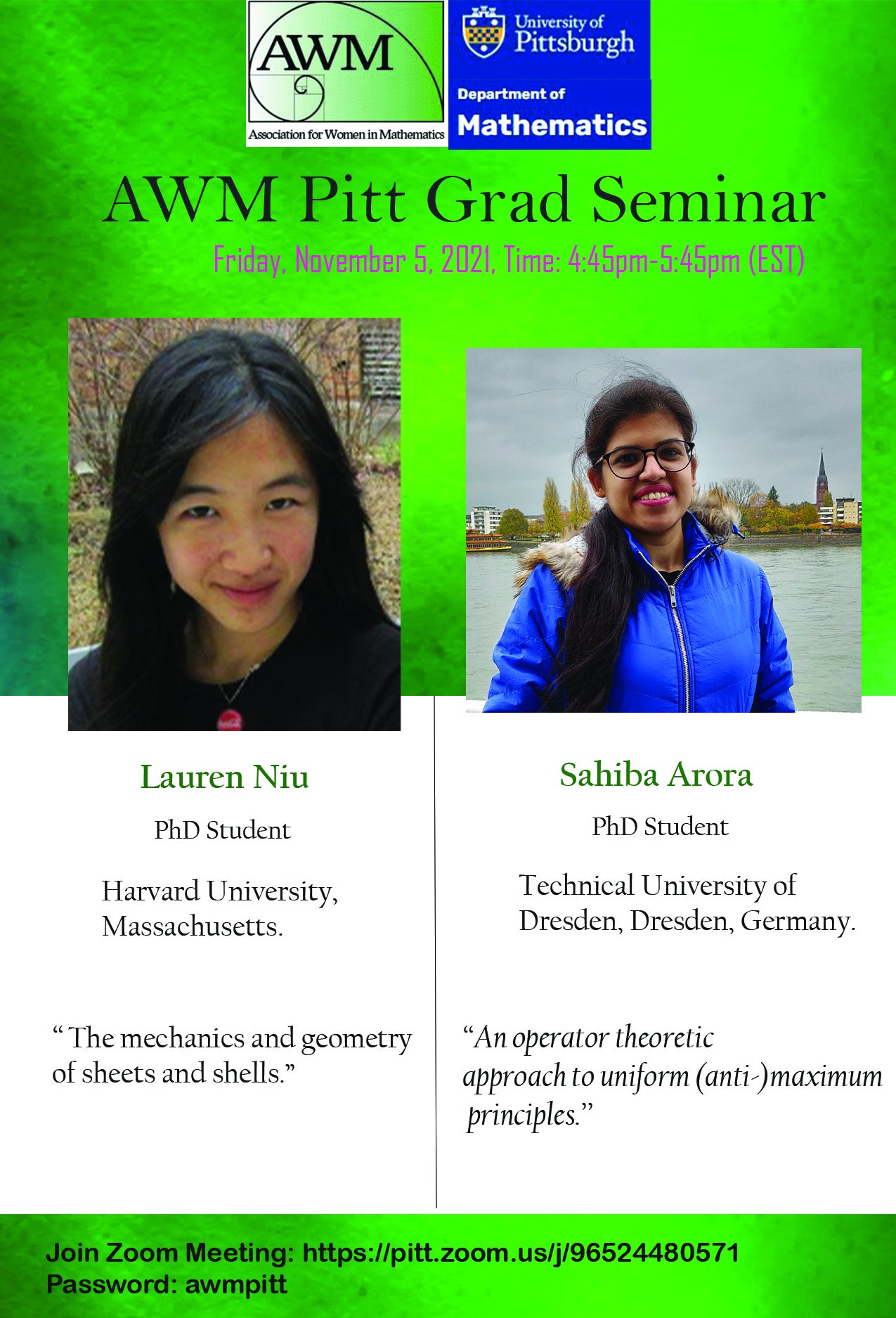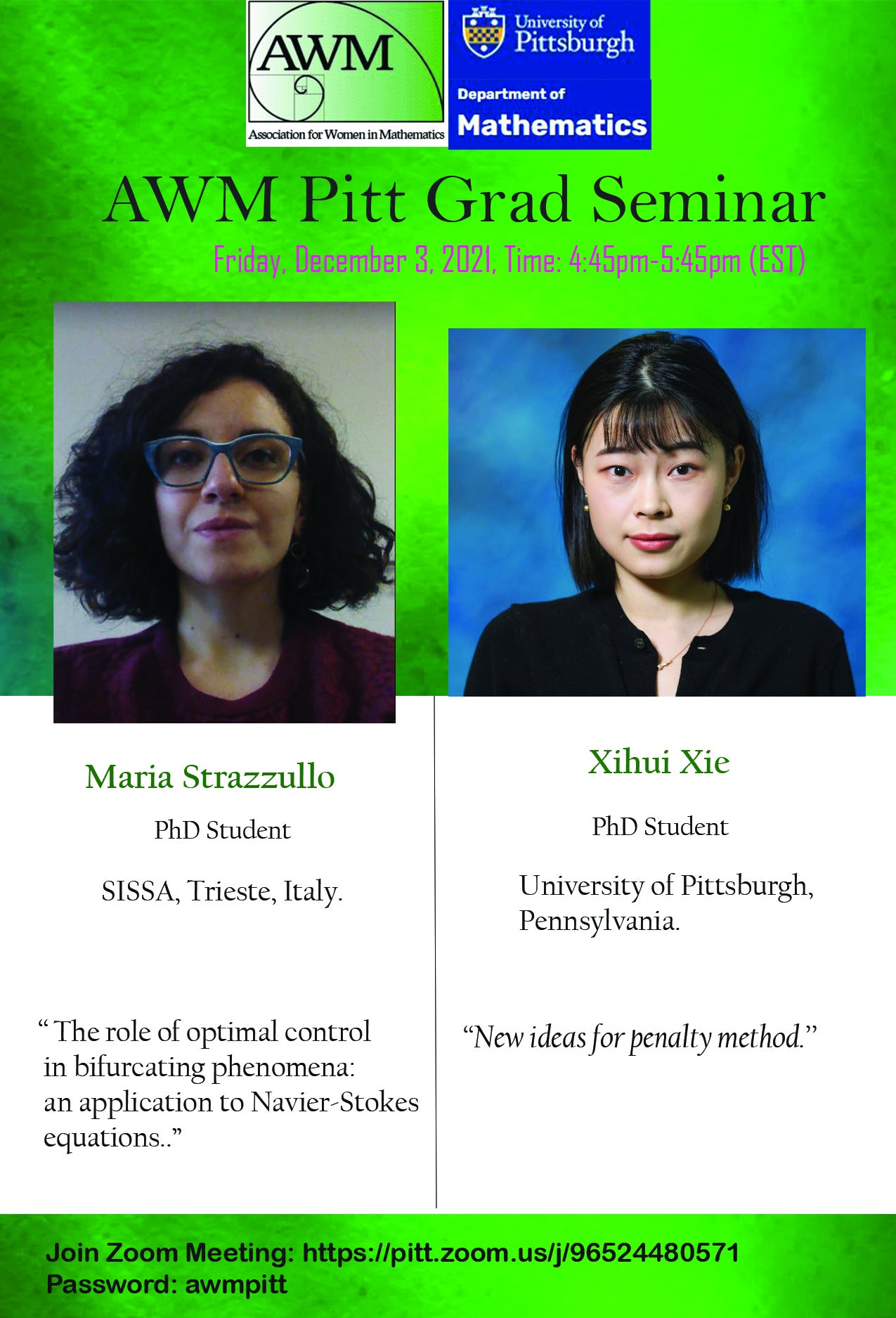 ---
Seminars in Spring 2021:
February 12, 2021

4:45pm

Nupur Patanker (PhD Student) 

Indian Institute of Science Education and Research Bhopal, India

Hamming weights and other parameters of certain families of linear codes 

February 12, 2021

5:15pm

Sanjana Agarwal (PhD student)

Indiana University, Bloomington

A brief glimpse into configuration spaces of graphs

March 12, 2021

4:45pm

Grishma Palkar (MSc)

University of Pittsburgh

Understanding the effect of inhibition on the traveling waves in a neural network

March 12, 2021

5:15pm

Papri Dey (PhD)

University of Missouri-Columbia

Real degeneracy loci of matrices and their configurations

April 9, 2021

4:45pm

Nicole Buczkowski (PhD student)

University of Nebraska-Lincoln

Stability of nonlocal systems

April 9, 2021

5:15pm

Christine Vaughan (PhD student)

Iowa State University

An entropy-consistent quadrature-based moment closure for the Vlasov-Poisson system

May 14, 2021

4:45pm

Agata Lonc (MSc student)

University of Warsaw, Poland

Mathematical modelling of bacteria spreading in the inter-hospital network

May 14, 2021

5:15pm

Hayley Olson (PhD student)

University of Nebraska-Lincoln

Investigating nonlinear diffusion in the nonlocal vector calculus framework

June 11, 2021

4:45pm

Tongtong Li (PhD student)

University of Pittsburgh

A new fully mixed formulation for the Stokes-Biot model

June 11, 2021

5:15pm

Anna Sisk (PhD student)

University of Tennessee, Knoxville

Epidemic models of violence and network models of food deserts: Looking at community issues through the lens of mathematical modeling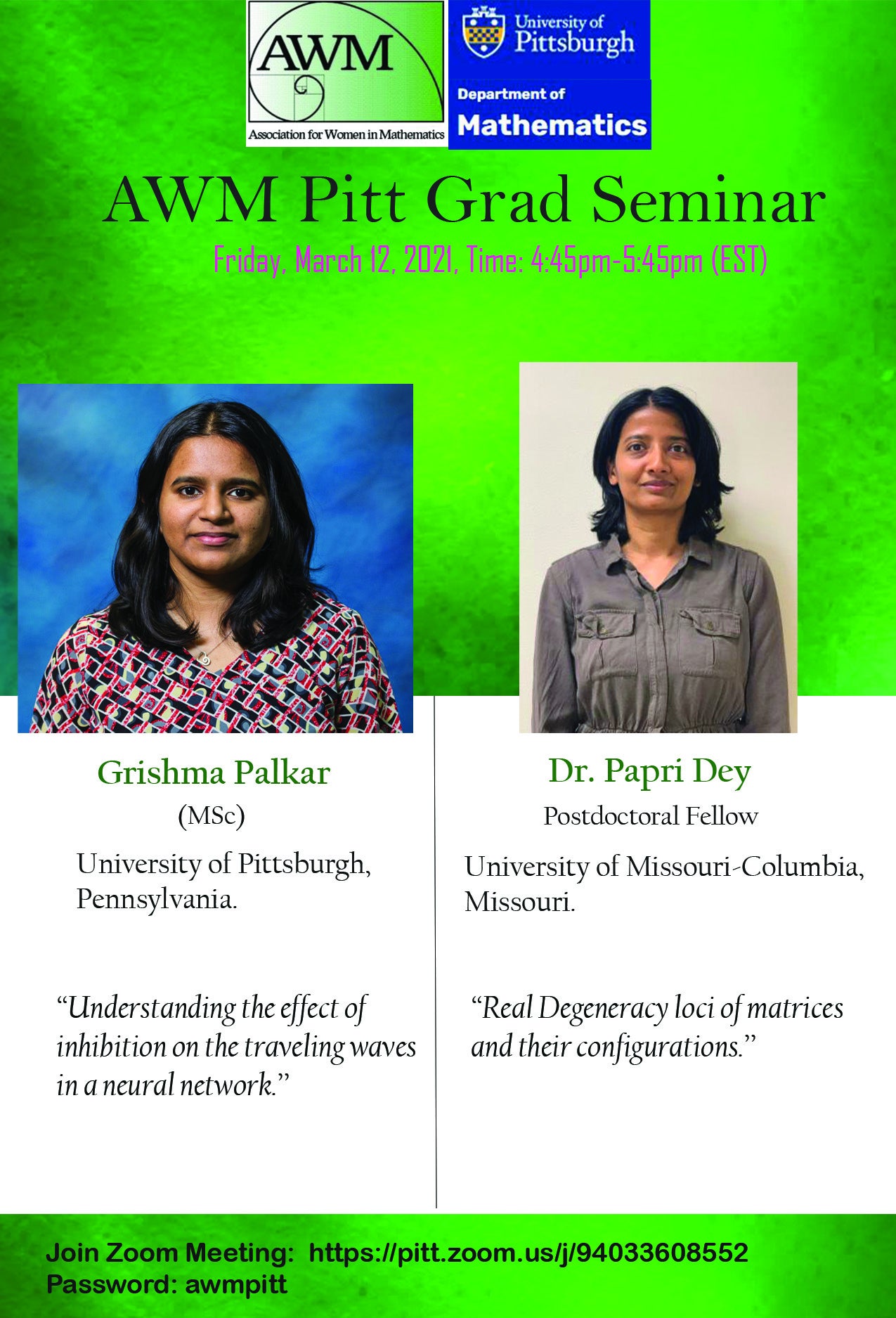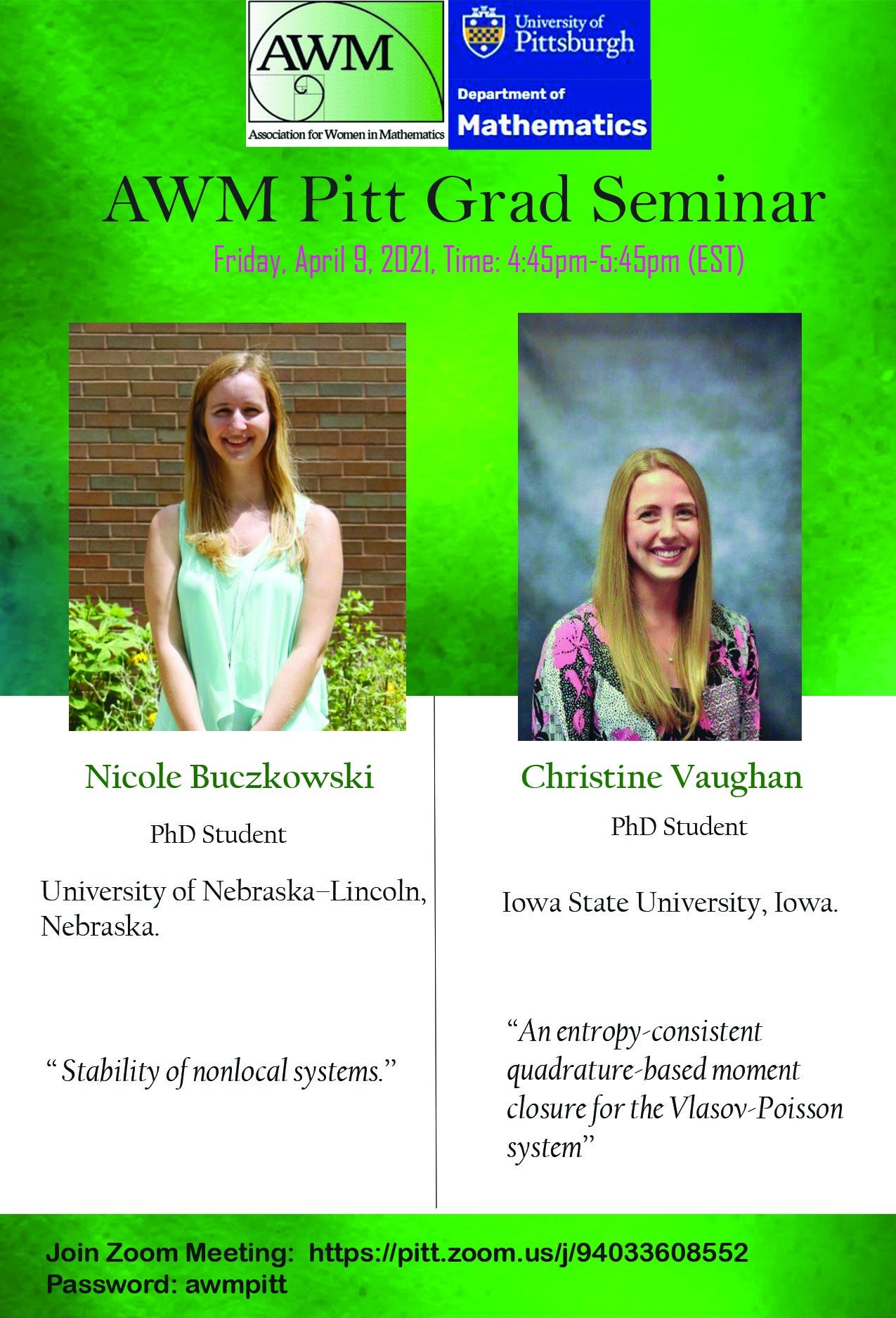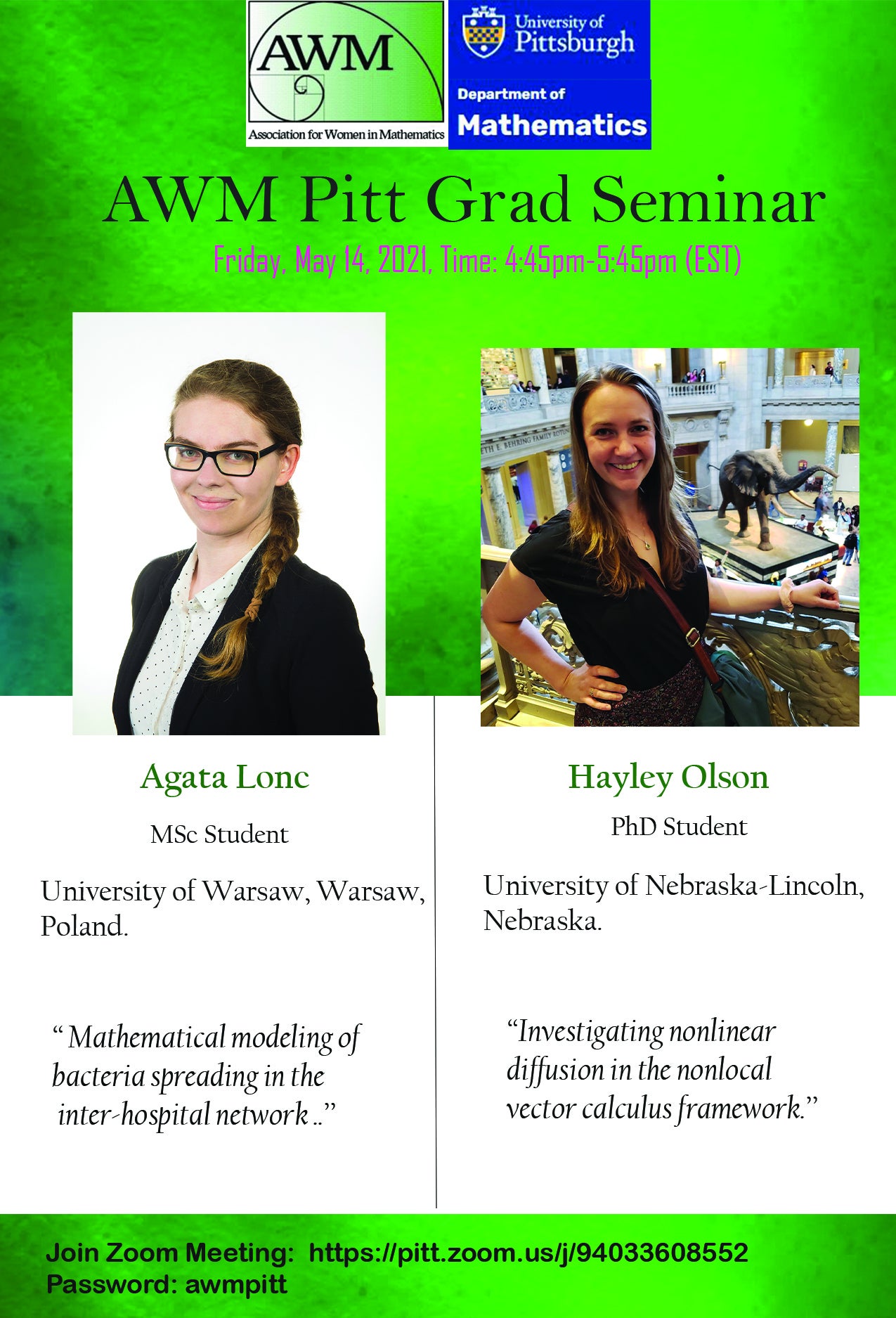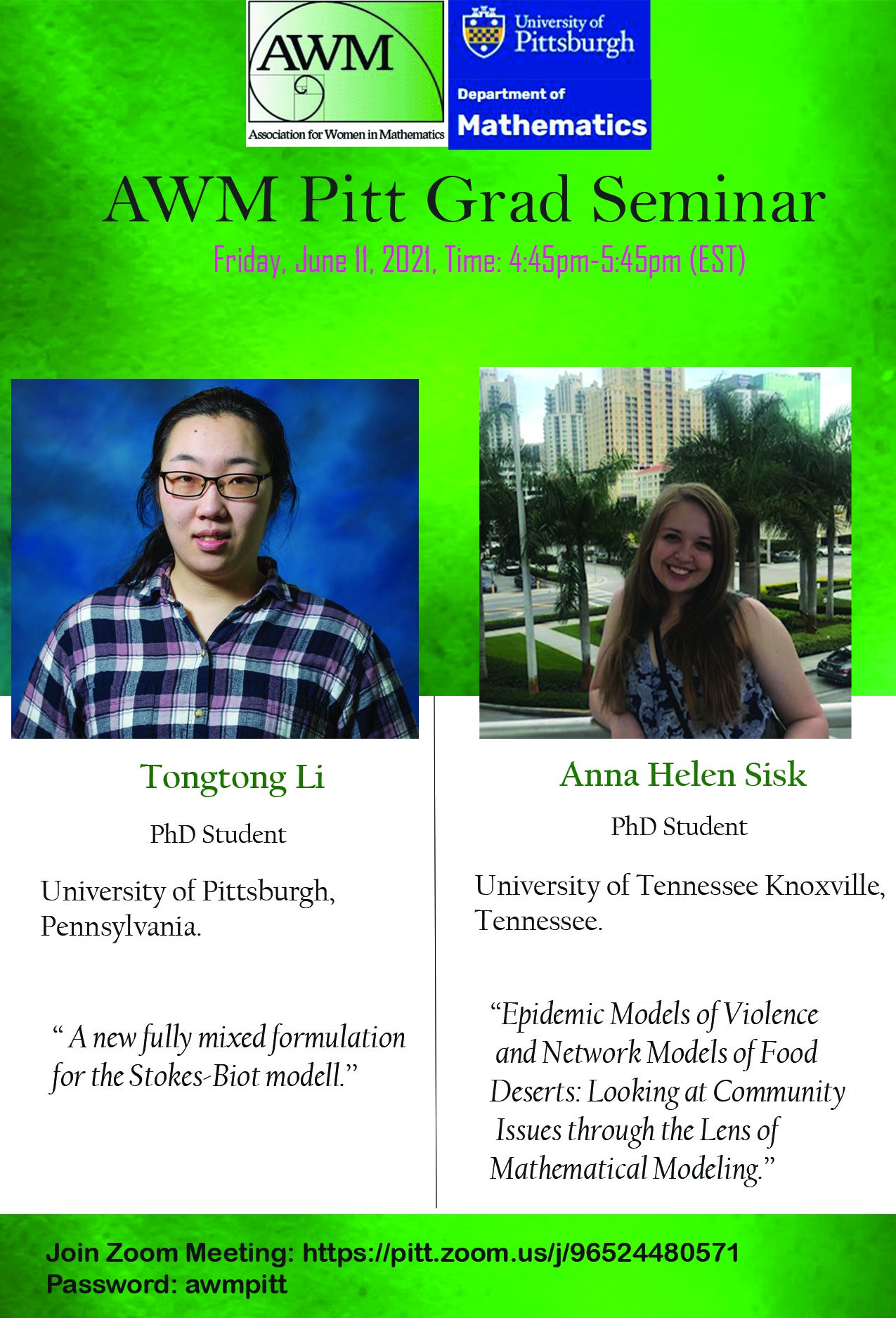 ---
Seminar/Colloquia Type:
Committee Members