Letter from the Chair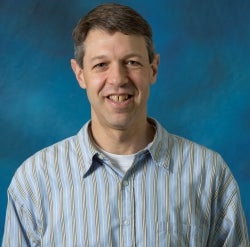 Dear Readers,
Think about your time at Pitt. What are the experiences that come to mind? Perhaps you recall encountering new ideas in the classroom, interacting with faculty who broadened your mathematical horizons, and pondering over challenging problems with classmates. Perhaps your mind turns to the excitement of living on your own for the first time or to participating in favorite extracurricular activities, mathematical or otherwise – and to the learning experience of juggling all of these with many other time constraints. Now imagine a Pitt semester where suddenly, midway through, almost all of these disappeared, with students suddenly scattered to their homes across the country and even the world, buildings closed, activities cancelled, and classes moved online. This scenario became our reality this semester, a reality unlike anything we had previously encountered. Confronted with this abrupt disruption, Pitt Mathematics students, staff, and faculty showed amazing resilience. Faculty put in long hours to learn new technology and prepare online courses in a very compressed time frame. Students coped admirably with this completely new learning experience and the other disruptions they faced. And staff dependably helped us through it all. What a semester!
In this newsletter, you will read about some of the steps involved in this transition, including the establishment of the online Mathematics Assistance Center, our virtual graduation ceremony (video link provided!), and the efforts of Undergraduate Director Paul Gartside to help students maintain a sense of community even as our physical community was dissolved. These efforts are described as part of a broader tribute to Professor Gartside as he steps down after several years of dedicated service as our Undergraduate Director. Thank you, Paul!! While Paul will stay with us in the department, Professor Brent Doiron, sadly, will not, and a farewell to Brent appears here as well. On a happier note, we are very pleased to introduce a new newsletter feature, an Alumni Spotlight, which this semester shines on George Orr, as we present George's answers to our questions about his time at Pitt, his ensuing career, and of course the importance of mathematics! Finally, you can also read about some research grants recently awarded to our faculty as well as some noteworthy talks that we hosted in February: the Michalik Lecture, given on topics in algebraic and computational geometry by Professor Bernd Sturmfels of UC Berekely and Max-Planck Leipzig, and an eerily relevant Undergraduate Mathematics Seminar by Professor David Earn of McMaster University on mathematical analysis of plagues.
As one of our former postdocs heads off to join a computational project on COVID-19 at TU Delft and several of our faculty interact with medical researchers to try to make predictions about COVID-19 outcomes, let's hope that mathematics, in support of the broader scientific community, can help us quickly and safely reach a stage where this strange semester fades into memory as an aberration! Meanwhile, we hope you enjoy this newsletter – best wishes,
Jonathan Rubin, Professor and Chair, Department of Mathematics, University of Pittsburgh