AWM Mission:
The purpose of the Association for Women in Mathematics is to encourage women and girls to study and to have active careers in the mathematical sciences, and to promote equal opportunity and the equal treatment of women and girls in the mathematical sciences.
University of Pittsburgh's AWM student chapter creates opportunities for undergraduate and graduate students to gather and support one another by providing a space to discuss issues pertaining to women in mathematics.
Officers:
President: Abby Pekoske Fulton
Vice-President: Astrid Berge
Treasurer: Pamela Delgado
Faculty Sponsor: Professor Marta Lewicka
Upcoming Events: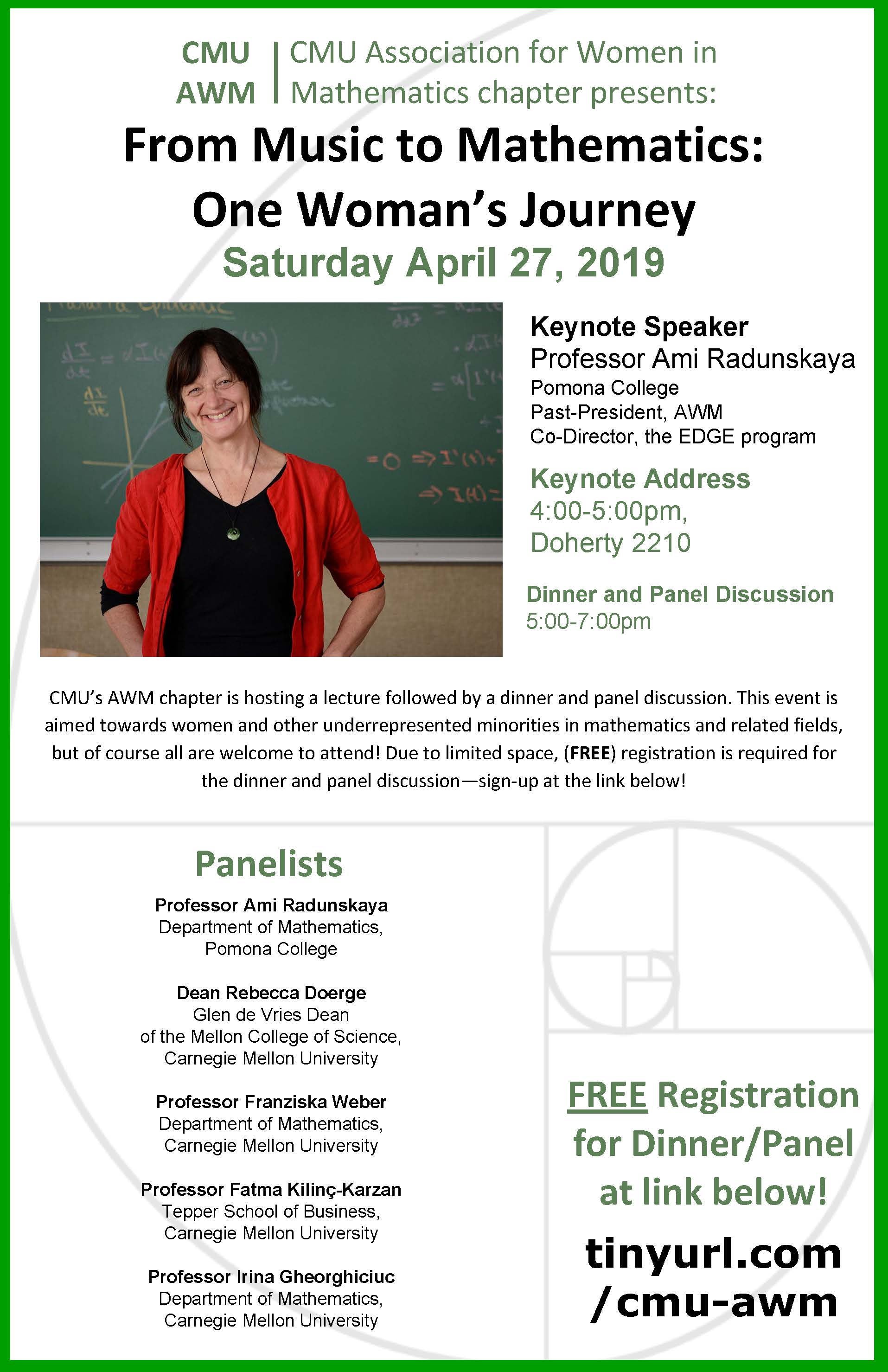 CMU's AWM chapter is hosting a keynote address by Dr. Ami Radunskaya 4/27 at 4:00pm and a dinner and panel on 4/27 at 5:00 pm.
https://sites.google.com/view/cmu-awm/events
Past Events:
Tuesday, April 16th, 11:30am - 1:00pm Thackeray Hall 705
A Lunch Discussion with Women in STEM
Please join our lunch discussion on challenges faced by women in academia and the issues encountered in the STEM fields. Our guest speakers include:
Dr. Mengying Xiao, Assistant Professor, Department of Mathematics, College of William and Mary
Dr. Rachel Bezanson, Professor, Department of Astronomy, University of Pittsburgh
Dr. Kay Brummond, Professor, Department of Chemistry and Associate Dean of Faculty Affairs, University of Pittsburgh
Dr. Marta Lewicka, Associate Professor, Department of Mathematics, University of Pittsburgh